Introduction
Edit
In medieval nut and trigger locks the contact surfaces of the nut and the trigger are highly stressed and prone to wear. One way to reduce wear is to reinforce the contact surfaces with hardened steel, as described in this article. For more ideas on how to reduce wear, look here
The process step-by-step
Edit
Sart by cutting a wedge-shaped piece of hardeneable steel, such as spring steel. Then cut a matching wedge-shape to the trigger and put the whole package together using a vise: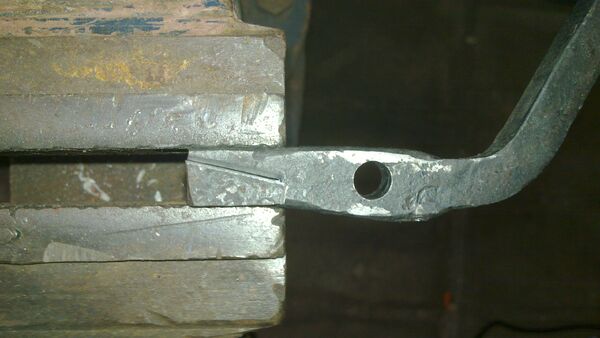 Grind grooves to the contact surfaces of the wedge and the trigger and weld them together:
Grind away excess steel after this, then heat treat the tip.
Ad blocker interference detected!
Wikia is a free-to-use site that makes money from advertising. We have a modified experience for viewers using ad blockers

Wikia is not accessible if you've made further modifications. Remove the custom ad blocker rule(s) and the page will load as expected.