Introduction
Edit
While fletching shafts by hand is not overly difficult, use of a fletching jig can produce more consistent results. If you happen to an (un)happy owner of a fletching jig designed for arrows (instead of bolts), you can't use the jig without modifications or use of fake nocks.
This article describes one possible, easy and quick way to make fake nocks. They will not look pretty (that's a guarantee), but they do work. You will need one nock for each bolt shaft thickness.
The process step-by-step
Edit
First we need to measure the size of the steel plate we need for the fake nock. This can be done by wrapping a piece of thin cardboard around the shaft, marking the place where the sides overlap:
Then cut the cardboard so that when wound around the shaft it's sides don't overlap, but are still close to each other; the idea is that the finished fake nock can be tightened easily around the bolt shaft:
Using the cardboard piece, mark the places where to cut on the steel plate, and cut it:
Place the steel plate on top of opened jaws of a vise, and pound it to a semi-circular form:
Next place attach a steel rod of (roughly) the same thickness as the shaft to the vise, so that it extends slightly beyond the jaws, and place the steel plate on top of it:
Use pliers to squeeze the steel plate around the steel rod: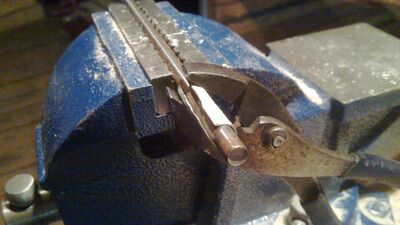 Next, remove the steel rod, insert the fake nock to the shaft, leaving about half of it exposed. Then clamp the fake nock (and the shaft) to the vise, so that the exposed end is outside the jaws:
Squeeze the exposed, unsupported part of the fake nock flat with a pair of pliers:
At this point the fake nock should look like this:
The last step is to cut the slot to the end of the fake nock. Attach it (preferably with the shaft) to the vise: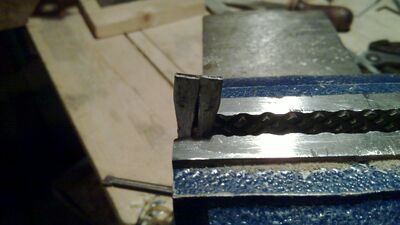 Then use a hacksaw and files to cut the slot. The result should look roughly like this:
If you're lucky, the fake nock fits the receiver on the jig perfectly; if not, adjust the slot.
Here's the fake nock in action: