Introduction
Edit
This is a general purpose method for tapering the end of the shaft so that it fits the socket in the bolthead. If you're using factory-made boltheads and make lots of identical bolts, you could consider buying a special tool designed for tapering the shaft: these should be available at many archery supply stores.
The process step-by-step
Edit
Cut the shaft roughly to length, leaving it longer than necessary at first:
Measure the depth of the socket and mark the depth on the shaft: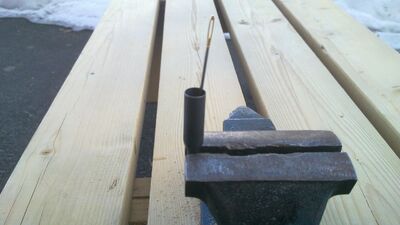 If you want to save some time, use a knife to make a rough taper:
Then, by continuously rotating the shaft rasp it to form (see video):
The result should look like this, and you should be able to fit the shaft and socket easily together: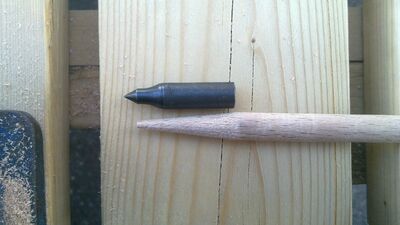 Ad blocker interference detected!
Wikia is a free-to-use site that makes money from advertising. We have a modified experience for viewers using ad blockers

Wikia is not accessible if you've made further modifications. Remove the custom ad blocker rule(s) and the page will load as expected.